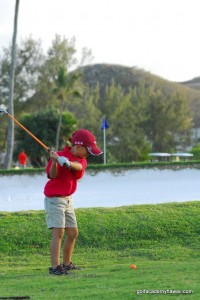 Golf for Ages 6-17
Golf Academy Hawaii's Junior Golf Program runs year-round and teaches kids ages 6 -17 everything from basic swings to the advanced techniques.
Beginner levels start with the basic essentials of golf etiquette and golf swing concepts like, grip, alignment, stance and posture.
Each five-week session ends with a tournament where golfers practice their skills in a formal golf environment.
The beginning students meet from 4:00 to 4:55 p.m on Saturdays and Wednesdays.  Advanced students (Levels III and IV) meet weekly on Monday's from 4:00 until 6:00 p.m.
Cost is $200 for the initial five-week session and $175 per session thereafter.
Wed & Sat frequency – meets twice each week for five weeks. (Once a week for advanced) New sessions start every five weeks.  Check the calendar for details.
Details
Students may pro rate their costs to allow for vacations, etc. (Contact us for details)
No make up days – missed days cannot be carried over to the next session.

Students may play for free on Tuesdays after 4pm

. (May have to be accompanied by adult if under age)