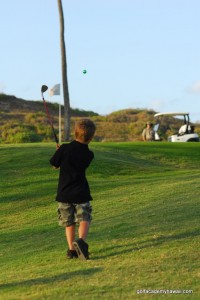 For the youngest golfers  including those with no golf experience, Junior Golf Level I teaches the basics: short game, putting, introduction to full swing, terminology and etiquette.
Level I meets Wednesdays and Saturdays from 4:00 p.m. to 5:00 p.m. See Calendar for more details.
To move to Level II, students must be able to pass the following  golf performance skills and golf knowledge tests:
P
utting (Silver)
Chi
pping (Bronze)
Fairway (Bronze)
Must achieve half of the required score for bronze 2 out of 10 tries for a specific age level.  Fairway example: A ten-year old male has a 50-yard distance requirement.  He must get 2 out of 10 to reach the 50-yard distance.
Progress chart for Level I as of January 10, 2014